Licensing
The codebeamer connector requires a valid license, with different available feature-sets depending on the corresponding edition.
Editions
Light Edition
The Light Edition is the free version of the codebeamer connector. It only requires a registration to obtain the program and a Light Edition license.
The Light Edition includes all features related to importing data stored in codebeamer into an Enterprise Architect model.
The configuration allows the user to select a codebeamer project and tracker. 
For more information, see Light Edition Configuration.
Pro Edition
The Pro Edition is the paid version of the codebeamer connector.
The Pro Edition includes all the features provided by the Light Edition, with the following additions:
exporting data stored in an Enterprise Architect model to codebeamer.
navigating from data exported to codebeamer back to Enterprise Architect Model elements
customizing the mapping between codebeamer and Enterprise Architect data
Licenses
In order to work with the connector, it has to be licensed with one of the following types: Trial, User or Floating.
To apply one of these license types, open the licensing dialog from the "Specialize" menu: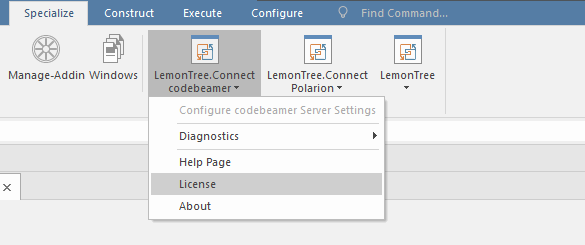 Trial
You can easily try out the connector without requesting a trial license from us. To start your 30 day evaluation period, simple select "Start Trial":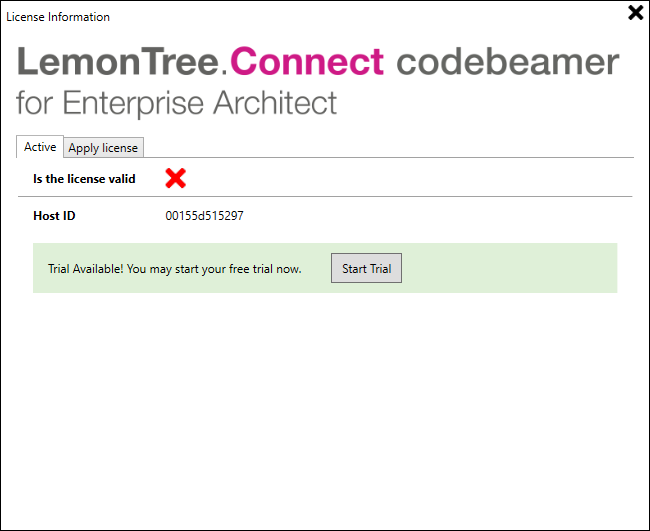 Note
Started a trial and could not finish your evaluation?
No problem, everyone has been there! Just write a mail to sales@lieberlieber.com and we'll send you a key to extend your trial period!
Floating
In order to use the floating license mechanism, you need to install a Floating License Server.
A guide that shows how to install the Floating License Server is available here: Installation of Floating License Server.
To apply a floating license, switch to the "Apply License" tab and select "Floating License" as License source. In the next step, enter the port and the server address of the Floating License Server into the "Server Address" text box, in the following format: port@server:

If the connection test with the button "Test" was successful, click "Apply".

If the license is valid, the license details are shown in the license overview: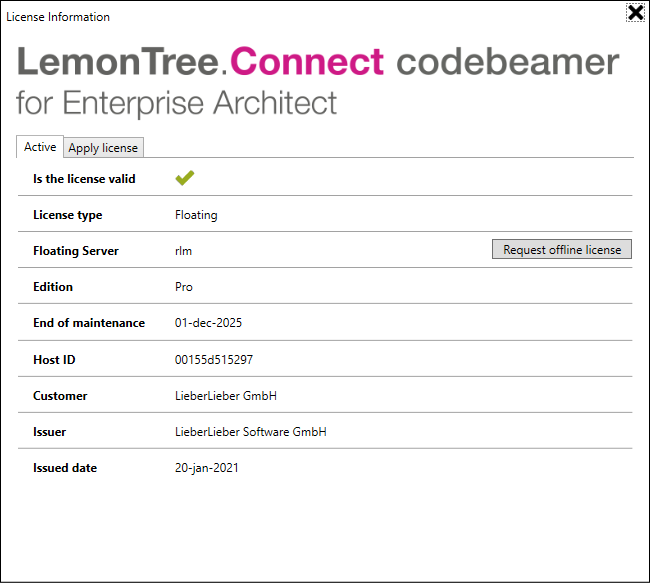 Offline License
Floating licenses are also usable offline. To check out an offline floating license for a maximum of 30 days, click "Request offline license":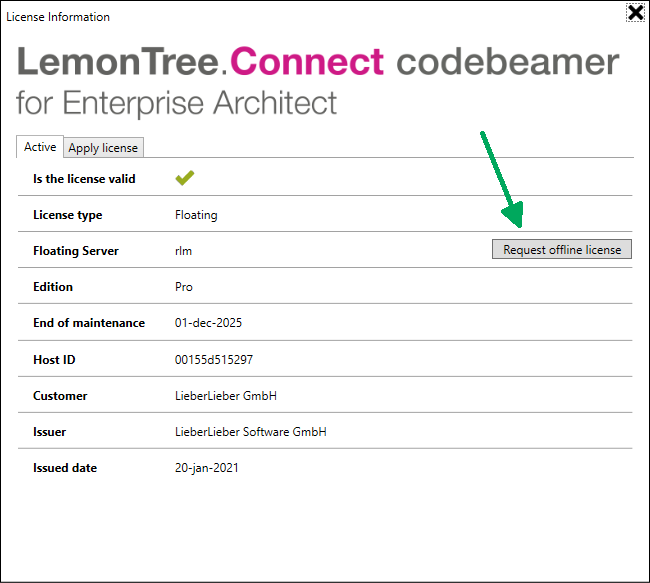 You can see the remaining days until the offline license is returned in the License Dialog: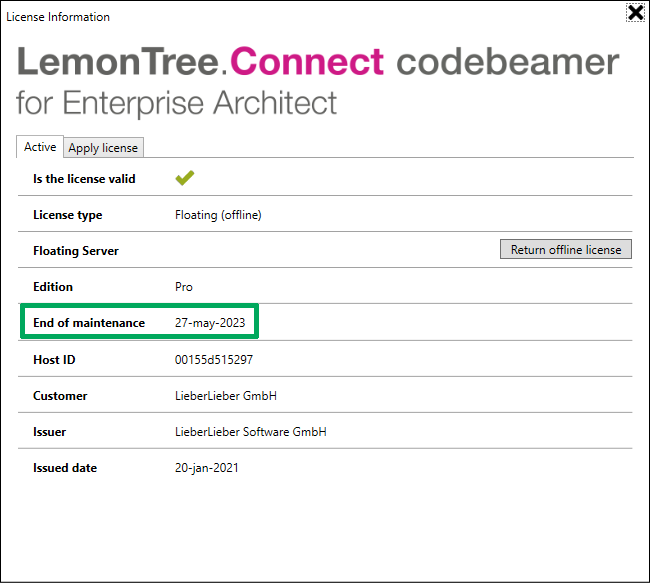 Note
The Offline License is checked in automatically at the end of the validity and a new Floating License is checked out, if needed.
The User can also decide to return the Offline License before the end of validity within the License Dialog.