Licensing
In order to work with LemonTree.Connect, it has to be licensed with one of the following types: Trial or Floating.
To apply one of these license types, open the licensing dialog from the "Specialize" menu: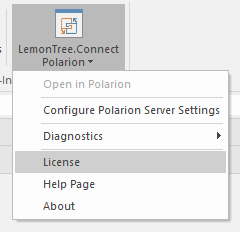 Trial
You can easily try out the connector without requesting a trial license from us. To start your 30 day evaluation period, simple select "Start Trial":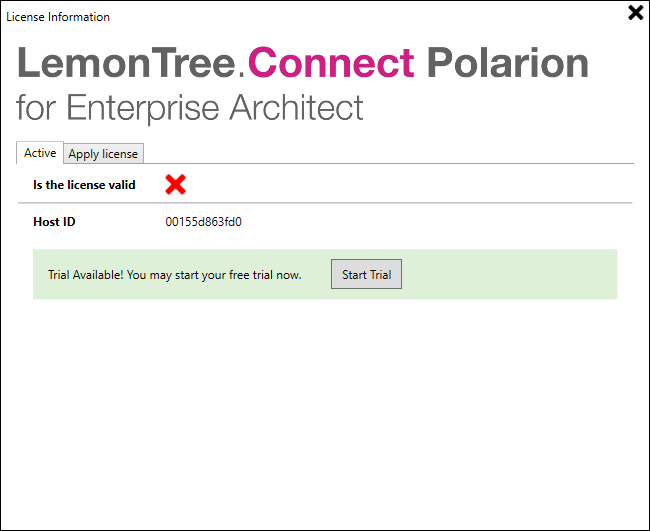 Trial period exceeded
Started a trial and could not finish your evaluation?
No problem, everyone has been there! Just write a mail to sales@lieberlieber.com and we'll send you a key to extend your trial period!
Floating
To use a floating license, you have to setup and host an RLM license server. Follow the guide at Installation of Floating License Server to setup a the license server for LieberLieber products.
Apply a Floating License
To apply a floating license open the License menu with Specialize > LemonTree.Connect Polarion > License and switch to the "Apply License" tab. In the next step, enter the port and the server address of the Floating License Server into the "Server Address" text box, in the following format: port@server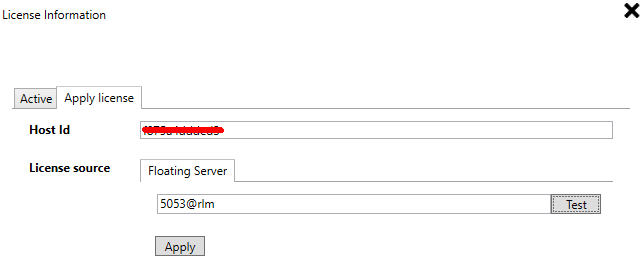 If the connection test with the button "Test" was successful, click "Apply". If the license is valid, the license details are shown in the license overview: