Licensing
When starting LemonTree for the first time, the licensing dialog opens. Here you have the option between a trial which you can immediately start, or to enter a key. If you want to add a key later, or check your license, the licensing dialog is available in the Hamburger Menu - License Information.
Trial
Starting a trial is easy. Just click on Start Trial. The license dialog will update and give you an information on the remaining days.
Started a trial and could not finish your evaluation?
No problem, everyone has been there! Just write us a mail on support@lieberlieber.com and we'll send you a key to extend your trial period.
User License
Adding your license is easy too! Just select the license file we've sent you, or paste a license key in the textbox. Wait a second, and the license dialog will update to reflect your new license.
For reference, a license looks like this:
example license - not for use
LICENSE lieber lemontree 2019.05 19-may-2020 uncounted hostid=ANY  
  issuer="LieberLieber Software GmbH" issued="28-jan-2019"
  _ck=9d1efcf799 sig="c2S2526ANwb8S=Yz58xdrWINM980QBQg0im0G2ozBSayNKD
  cdYdPCM2+ETjvwDB"

Be sure to paste all of it - modifying any part of the license will likely render the license string invalid.
Tip
We hope that we've made the licensing of LemonTree as painless as possible. If you have problems activating your trial, please contact us.
Floating License
LemonTree 2.0 introduced a new licensing component. Now also Floating Licenses are available. You need to install a Floating License Server if you want to use Floating Licenses.
We have a quick guide on the most common questions regarding floating licenses, which is available here.: Floating Licenses.
Additionally, a guide that shows how to install the floating license server itself is available here: Installation of Floating License Server.
Offline License
LemonTree 2.2 now also support Offline Licenses.
Floating licenses are now also usable offline. Check out a floating license for offline use for a maximum of 30 days. The LemonTree UI will inform you about the remaining validity.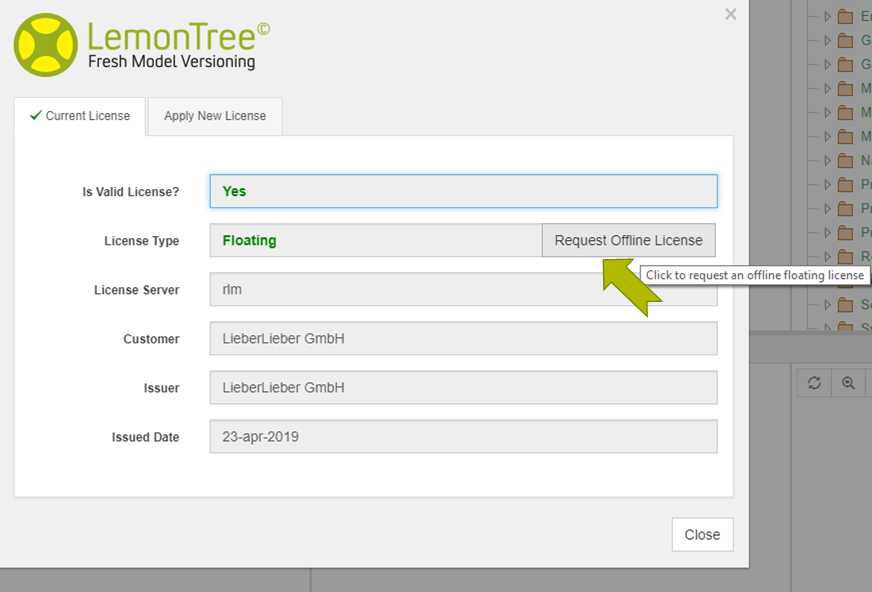 The Offline License is checked in automatically at the end of the validity and a new Floating License is checked out, if needed.
The User can also decide to return the Offline License before the end of validity within the License Dialog.
Failover License Server
It is also possible to install a Backup License Server. For more details contact our support: support@lieberlieber.com.